1. Nuthatches
Canon 40D
Canon 300mm F4 IS plus 1.4 x Extender
ISO 500
F7.1
1/160th
Evaluative Metering -2/3
Bean Bag
Before I became obsessed with photographing the local wildlife, I'd only ever seen 2 Eurasian Nuthatches. Each of these occasions are indelibly etched in my mind, these beautiful, energetic birds were characteristically 'glued' to the trunk, moving downwards head first as they searched for insects hidding in the bark crevices.
These unique looking dumpy, large headed and colourful birds have to be my favourite woodland species. They're almost unmistakable and the only British bird that can run downwards. Apparently in times gone by it was thought they even roosted upside down.
From my perspective I believe these little beauties have become more abundant over the last 10 years (like the Greater Spotted Woodpecker) primarily I guess due to the increasing popularity of garden bird feeders where they are usually honoured guests.
These private birds are real birds of the trees only rarely venturing to the ground when they feel absolutely safe and there is significant food benefit in doing so. They feed on insects, nut, seeds and berries often storing them during autumn for the colder winter months ahead by wedging them into crevices. They also wedge tougher seeds, insects and nuts into crevices then work to open them in an expert fashion with their sharp stout bills.
The Nuthatch family itself comprises 15 species and is widespread throughout North America, Europe and Asia. The Eurasian Nuthatch species ranges from Wales and England at its most westerly extent then on through Southern Norway, Sweden and into Russia and south to the Mediterranean. Their lovely plumage remains throughout the year and we are lucky here in the UK in that our race is probably the most colourful in their range. The more northern and eastern races lack the pale orange/buff under parts, instead these races are much plainer and whiter in this area. The Spanish race most closely resembles the UK race but is not quite so colourful in its saturation levels. I would say they are at Photoshop saturation level 10 where as the UK race is probably around 18!! They are mainly resident birds, often never venturing far from the wood they were born in, though in their northern most ranges they may move southwards during autumn if population densities are high.
During the nesting season the males spend much time calling from the tallest trees in a very loud manner making them difficult to miss over a large distance. The nest itself is within a hole in a tree and characteristically the entrance is packed with mud in order to narrow the entrance to their exact size. This habit gave rise to the local names for this species such as 'Mud Dabber' and 'Mud Stopper'. The 11 or so eggs are laid on a layer of bark and chippings, which are also used to cover the eggs.
When photographing these super birds it is very difficult to get any good images unless you feed them regularly and hide nearby (with my 500mm F4 and 1.4 extender on a 1.6 crop body I still don't want to be more than 12 metres away and preferably around 6 metres). I'm very lucky in that we have several local reserves where they are fed, thereby discharging me from the responsibility of feeding them regularly for a whole season. I would not want to start feeding them just to get a few nice images and then leave them wasting their energy looking for food in the depths of winter once I had stopped feeding.
Canon 7D
Canon 500mm F4 IS plus 1.4 x Extender
ISO 640
F6.3
1/100th
Evaluative Metering -2/3
Tripod
I find the best approach is to spend time upfront really watching what their habits are from a distance. I then try to identify which trunks and branches they frequent to lodge food in while they feed, which routes and stopping off points they use as they work their way towards the feeder, where the good backgrounds can be found and where the best lighting is and lastly where the best places to hide will be (especially if they are not used to people). Once all these factors have been weighed up and the best compromise found it's a case of setting up camp and waiting. The best place locally has a regular schedule of I think 4 nuthatches who seem to take it in turns to show up every 10 minutes or so throughout the day. This gives you a real satisfying chance to get good images as the light varies through the day and throughout most of the year. Because it's a regular feeding place you also get the chance to take images of many other species in between, particularly I reckon if you've found a spot frequented by Nuthatches your also guaranteed to see Greater Spotted Woodpeckers.
When actually taking images of these frantic birds I find the best approach is to pick your spot (as per your decisions above), get the camera focused there and wait until the right moment, then let rip taking as many images as you can while it alights. These energetic little guys don't hang around for long in the same spot and so trying to chase after them through the trees is a complete waste of time. As soon as your autofocus has caught up with them they are gone in most cases, plus your panicked movements to find them through the view finder invariable frightens them off, decreasing the chances of them returning.
Canon 7D
Canon 500mm F4 IS plus 1.4 x Extender
ISO 640
F5.6
1/320th
Evaluative Metering -2/3
Tripod
Canon 7D
Canon 500mm F4 IS plus 1.4 x Extender
ISO 640
F5.6
1/160th
Evaluative Metering -2/3
Tripod
It was their predictability that helped me in taking the last image below which is one of my favourites. I just love how it has no detail but you still know it is unmistakably a Nuthatch. I accidentally caught an image like it but with only half the bird in frame but it was so striking to my eyes that I spent a whole morning trying to get a whole frame image and after many, many failed attempts I was very happy to get this successful image. This was one of those happy occasions where persistence really paid off and one which makes this image all the more special to me personally.
Canon 50D
Canon 500mm F4 IS plus 1.4 x Extender
ISO 500
F6.3
1/100th
Evaluative Metering -2/3
Tripod
This guy was very perterbd that a Greater Spotted Woodpecker had arrived to feed on his sunflower seeds.
Canon 7D
Canon 500mm F4 IS plus 1.4 x Extender and EF25 II Extension Tube
1/80
F5.6
ISO 640
Tripod
AV Mode, Evaluative Metering dialed to -2/3
Canon 7D
Canon 500mm F4 IS plus 1.4 x Extender and EF25 II Extension Tube
1/60
F5.6
ISO 640
Tripod
AV Mode, Evaluative Metering dialed to -2/3
Canon 7D
Canon 500mm F4 IS plus 1.4 x Extender and EF25 II Extension Tube
1/60
F5.6
ISO 640
Tripod
AV Mode, Evaluative Metering dialed to -2/3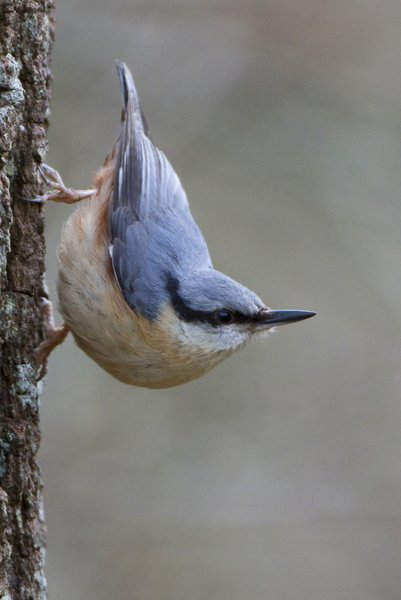 Information Sources:
'Birds' – Peter Hayman and Rob Hume
'The Natural History of the British Isles' – Mike and Peggy Briggs
Link To - Wikipedia
Link To - RSPB
Tweet
Follow @Naturelens